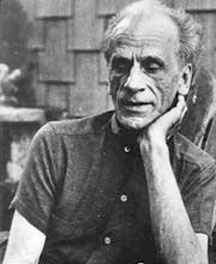 An exhibit of the great artist and filmmaker Joseph Cornell will be at the San Francisco MOMA until Jan 6. [
link
]
From the MOMA Website:
A self-taught artist, Joseph Cornell relied almost exclusively on found materials. He collected items from books, newspapers, second-hand stores, exploratory walks — even sweepings from his studio floor — to create intricate, elaborate box constructions and collages. These enchanting works of art transformed commonplace objects into extraordinary and magical dreamscapes, earning him immediate and enduring respect as a sort of artistic alchemist. Joseph Cornell: Navigating the Imagination brings together nearly 200 works dating from the 1930s until the

artist's death in 1972, offering the first comprehensive retrospective of his work in a quarter

century at its only West Coast venue.
Untitled (Hotel du Cygne) (c. 1952-55)

Tilly Losch (1935)


Untitled (collage) (c. 1930)


-
Cornell's papers online [
link
]
Some of Cornell's works online [
link
]
More works online [
link
]
Info about Cornell's films [
link
]
Watch Cornell's
1936 film
Rose Hobart
[
link
]
'The Magical Worlds of Joseph Cornell' DVD [
link
]